I usually have no idea what jewelry I have unless it's laying right out in front of me.
There have been so many times that I would root thru my jewelry boxes and
find pieces that I totally forgot that I had. Anyone else like that?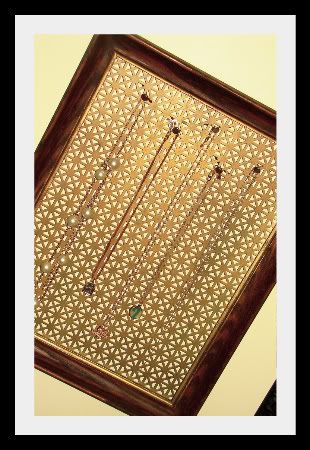 I have been collecting frames and materials for a while now and
I finally decided to sit down last week and check this project off of my list.
Materials that I used...frames without glass, old radiator screen, simple fabric,
random drawer pulls, hot glue, and nails.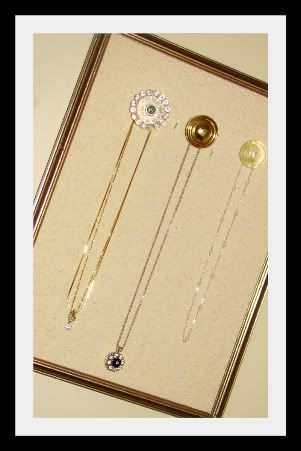 Cut the radiator screen to size with tin snips. It cut much easier than I thought. Place it in the frame and nail little trim nails into the corner of the frame and bend the nail flat against the radiator screen. This will hold it tight into the frame.
Scrambling around the house to find something to hang my jewelry from, I found gold brads. I slipped them thru the holes half way and bent the backs. It worked suprisingly well. Sorry, I didn't get a picture of them.
For the fabric covered frames, I simply cut the fabric a little larger than the cardboard backing. I then used hot glue to secure the fabric to the back. I used trim nails to secure it into the frame as well.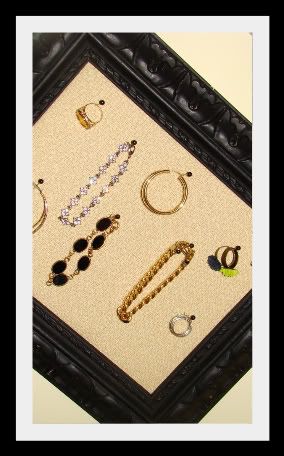 This may look a little scary but I needed to be resourceful. My backing was too hard and my pins wouldn't stick into it. So I used a few sheets of my daughters craft foam. I glued them to the backing with hot glue and trimmed them to fit. Then I covered it with the fabric like I described above.
Adding the knobs was easy. Just simply push the screw thru the back and twist into the knob. Hint: if the knob is a little loose, add washers or nuts to fill the gap. I had to add several to one of them so it felt secure.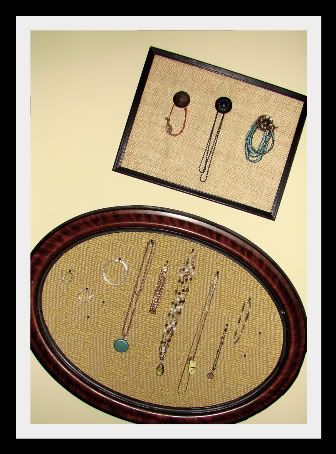 Here is how they turned out. I'll have to be honest. I am truly disappointed in the photos.
It looks so much better in person. I must have taken a hundred photos, a.m., p.m., flash, no flash. Ugh.
I'm in the process of redoing my bedroom so it looks a little sparse. My brother in law gave us this very large sleigh bed (which I love) so we needed to redo everything. My furniture looks rediculous next to that huge bed. I'll have to post when I'm finished.